When it comes to correcting misaligned teeth, there are several alternatives available to patients of all ages. More frequent and quite common in the United States, with about 12 million patients treated since its creation in the late 1990s, Invisalign® orthodontic treatment is an innovative dental appliance system, alternative to metal orthodontic braces, allowing to correct overlapping and chewing coordination problems between the lower and upper jaws: dental crowding, overbite or underbite, poor articulation or excessive spacing between certain teeth, Invisalign® is suitable for both young teenagers and adults.
Invisalign® offers a cost and a treatment time approximately equivalent to that of metal braces, but its main advantage lies in its discretion and its easy-use.
Invisalign® works as a gutter system made of transparent material invisible to the naked eye, personalized for each patient, which can be removed at any time. It undeniably offers an interesting solution of comfort and freedom, especially for adult patients whose social or professional life is not compatible with the wearing of metal braces.
Should Invisalign® be done in Turkey? 3 reasons why Body Expert doesn't advise it
With dental tourism allowing important budget savings on orthodontic care, some patients might be tempted to perform their Invisalign® treatment abroad, especially in Istanbul, Turkey, where dental clinics enjoy a reputation of excellence, with a particularly attractive quality/price ratio. A choice that Body Expert does not recommend, for 3 main reasons:
Treatment time: many regular appointments are needed with your Invisalign® dentist, between the first evaluations, the machining, the fitting and maintenance of the "Invisalign® aligners", and their regular change. Appointments must be every 2 to 6 weeks, to change the aligners, during the 6 to 18 months that the customized treatment will last.
Invisalign® solves only the problems of dental alignment: it makes it possible to correct defects of alignment, occlusion or spacing of the teeth, but will not be prescribed to solve deeper dental problems, for which there are alternatives better adapted. If this is the case, contact us.
Invisalign fits most orthodontic treatments. A good dentist will advise to start by solving deep dental problems requiring the installation of implants and/or prostheses (crowns or bridges) and composite dressings for decayed or devitalized teeth, before starting an Invisalign treatment of corrections of alignments, spacings or occlusions. The treatments are compatible, but must be followed in the right order.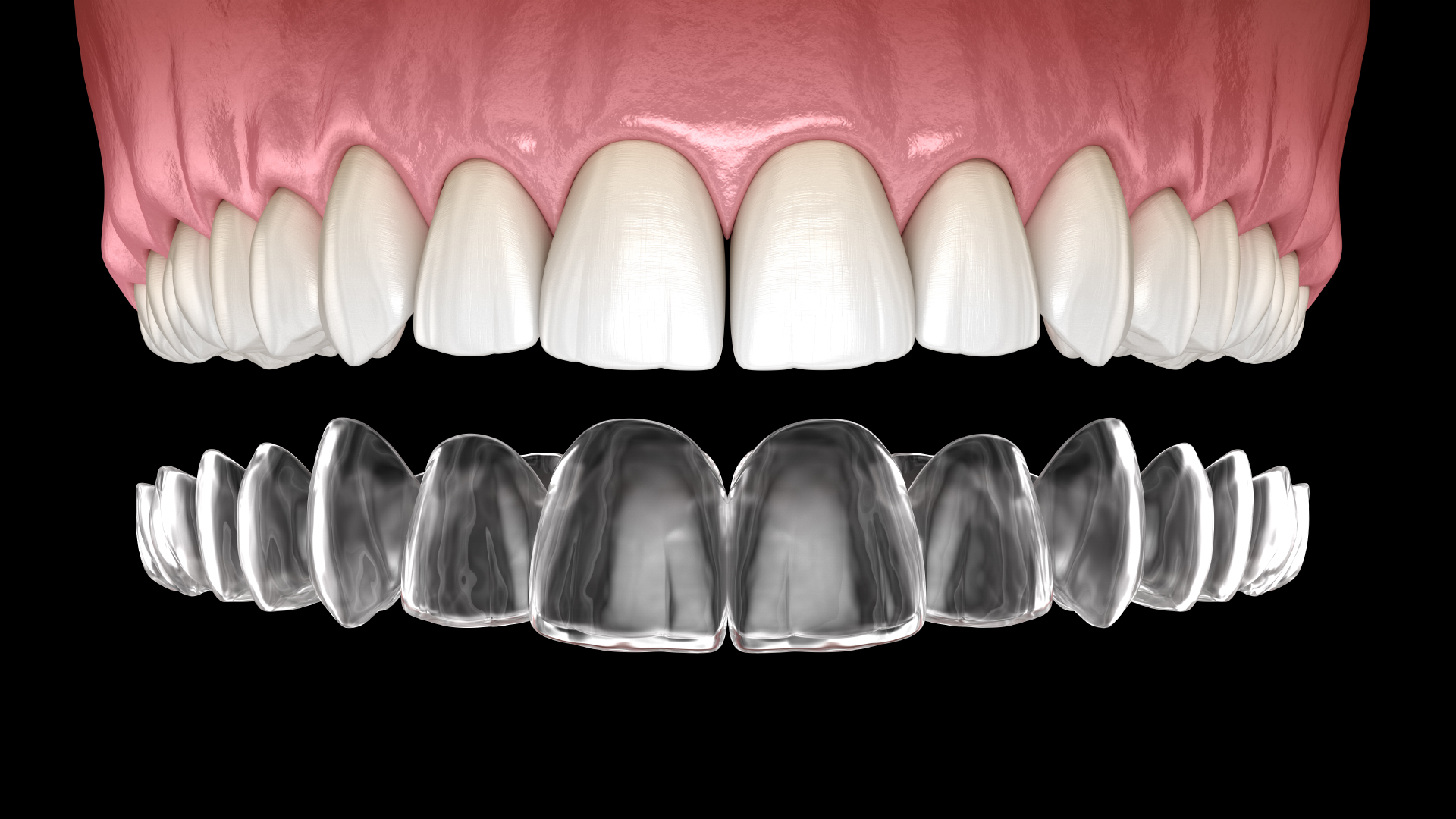 The principle of the Invisalign® treatment
Invisalign treatment begins with a consultation with a practitioner trained in Invisalign technology, who evaluates the corrections to be made, scans your teeth very precisely with a series of patented tools and establishes a precise and personalized digital treatment plan, transforming the alignment of the smile in stages. Unlike metal braces, which typically move teeth in an overall motion, the Invisalign system focuses on each individual tooth, without altering the positioning of teeth already in proper alignment. The patient will wear custom-made translucent plastic aligners that will gradually change the positioning of the teeth.
Each set of aligners must then be worn 20 to 22 hours a day, and changed by the treating dentist every 2 to 6 weeks, according to the pre-established plan. At each appointment, a scan is performed to check the progress of the treatment, or to correct it if necessary. And the patient leaves with new aligners.
Discreet, comfortable and thin enough not to interfere with the mouth or speech, produced in a smooth (neither too flexible nor too hard) they must be removed to eat and for teeth brushing. Depending on the extent of the corrections, the treatment usually lasts between 6 and 18 months. This is considered to be a durable and solid system that offers a real visible result for a shorter period of time than braces. However, the main treatment finished, a translucent retainer should be worn almost permanently on the teeth for another 12 months, until the jawbone is properly fixed around the repositioned teeth. Once this period is over, dentists generally recommend that you continue to wear your transparent retainer for a few hours per week.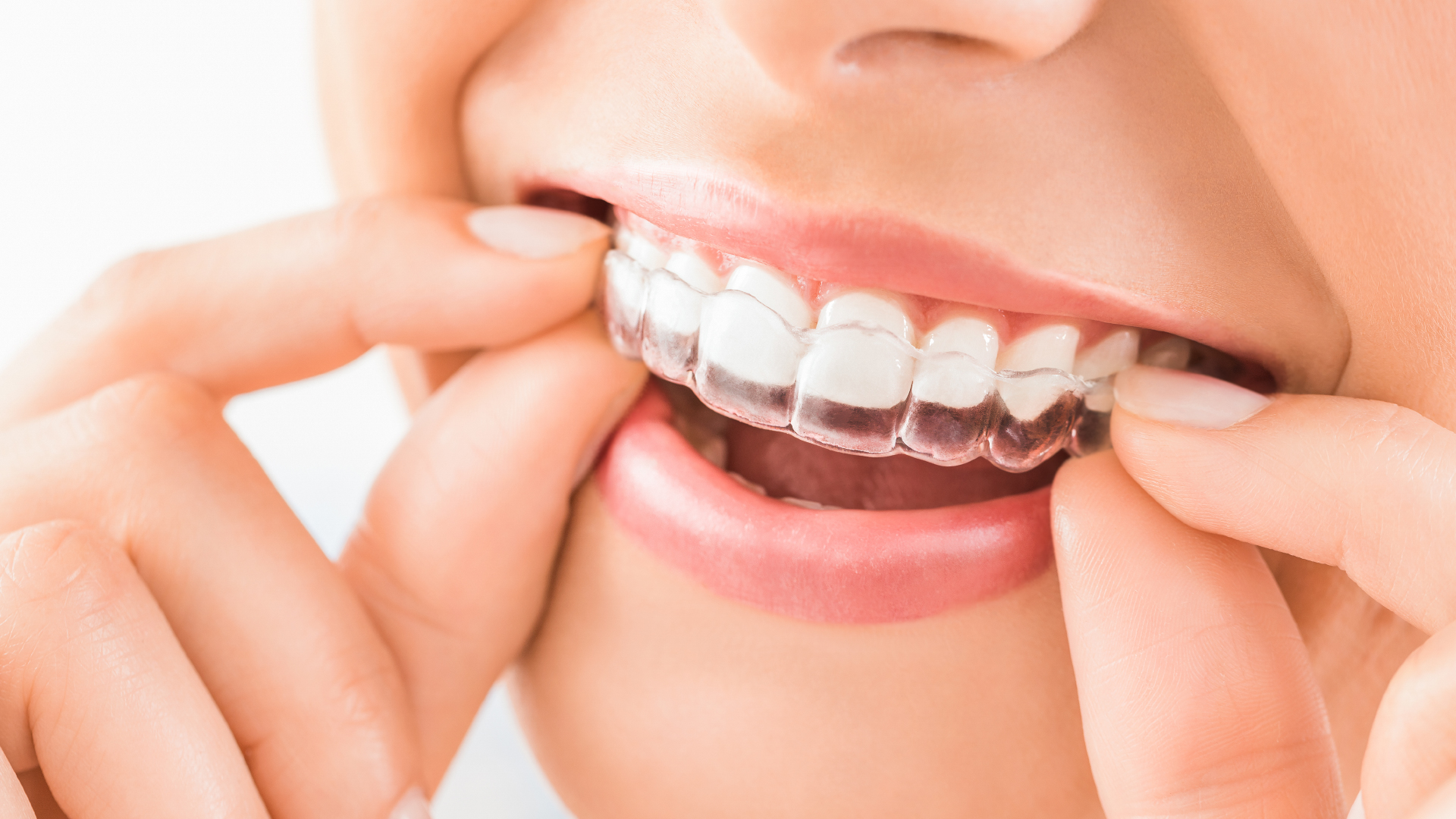 Invisalign treatment, for who ?
The Invisalign treatment is intended for the adults and the teenagers, requiring a medium correction of their alignment and wishing to find a more harmonious smile.
Gaps or occlusions too marked, or the consequences of an accident or a bone disease can impose deeper treatments.
The discretion of the system, invisible and more comfortable than metal braces, may tempt patients who in their social or professional life may be embarrassed by wearing braces. Its removability allows patients to pursue activities (sports or eating) without constraints, while maintaining better oral hygiene during treatment. Out of approximately 12 million patients claimed by Invisalign, about 2 million would be teenagers.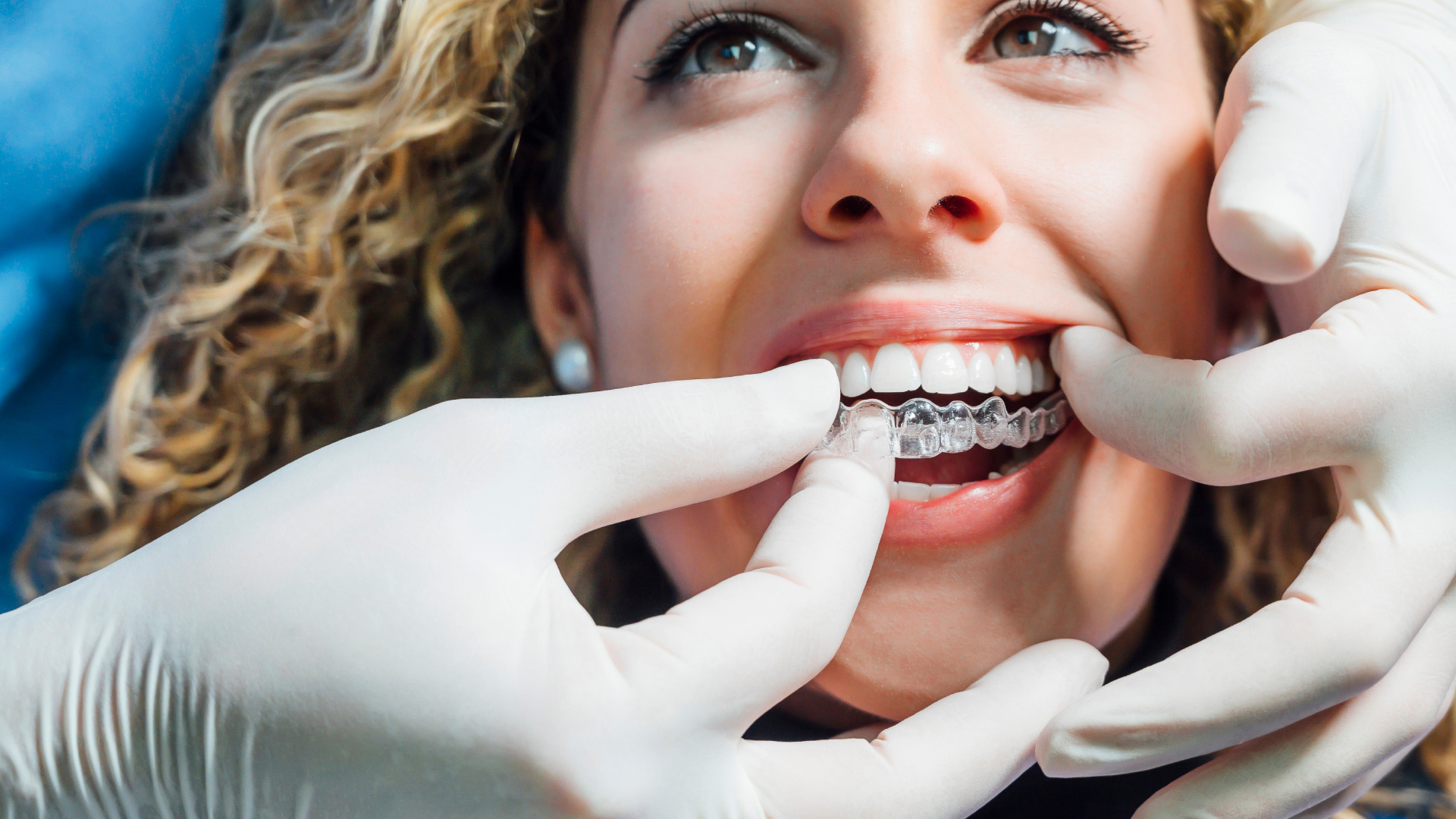 What are the steps of the treatment?
Step 1: Dental analysis and mapping
The dentist, certified Invisalign, is equipped with technological tools specifically conceived for and with the Invisalign system, with ultra powerful 3D software (iTero and ClinCheck), which eliminates the approximations and plans the complete course of the treatment. The visual interface produces 3D simulations that map the dentition, with an algorithm that calculates the forces needed for each dental movement and allows the patient to see in advance -virtually- the final result. It implements each alignment that the patient will wear throughout the treatment. The software will assist the dentist to ensure, at each appointment, that every tooth moves in the right order and at the right time.
Step 2: Placement of cleats
Tiny pins, called Smartforce Invisalign cleats, are temporarily placed between the teeth to push them in the right direction and help them align. The aligners, made of an invisible polymer material, are custom-made and fit over the teeth, top and/or bottom, adapting perfectly to the patient's teeth while gently pushing on the Smartforce cleats and gradually encouraging the teeth to align. The whole process is painless.
Step 3: Checking the alignment and changing the aligners regularly
Throughout the course of treatment, patients should visit their dentist, usually every two weeks, to check the alignment and wear new sets of aligners. This process lasts between 6 and 18 months, depending on each case.
Step 4: Placement of restraints
At the end of the treatment, and if the teeth are aligned according to the pre-established cartography, the patient will need to wear an invisible retainer, to prevent the teeth from returning to their initial position. This will last for about 12 months, until the jawbones have fully integrated the new dental position. After that, and for the rest of his or her life, the patient will need to wear the same retainer regularly, a few hours a week. Most dentists trained in the Invisalign system choose the Vivera restraints, specially designed to be used after an Invisalign treatment and considered more solid and long-lasting.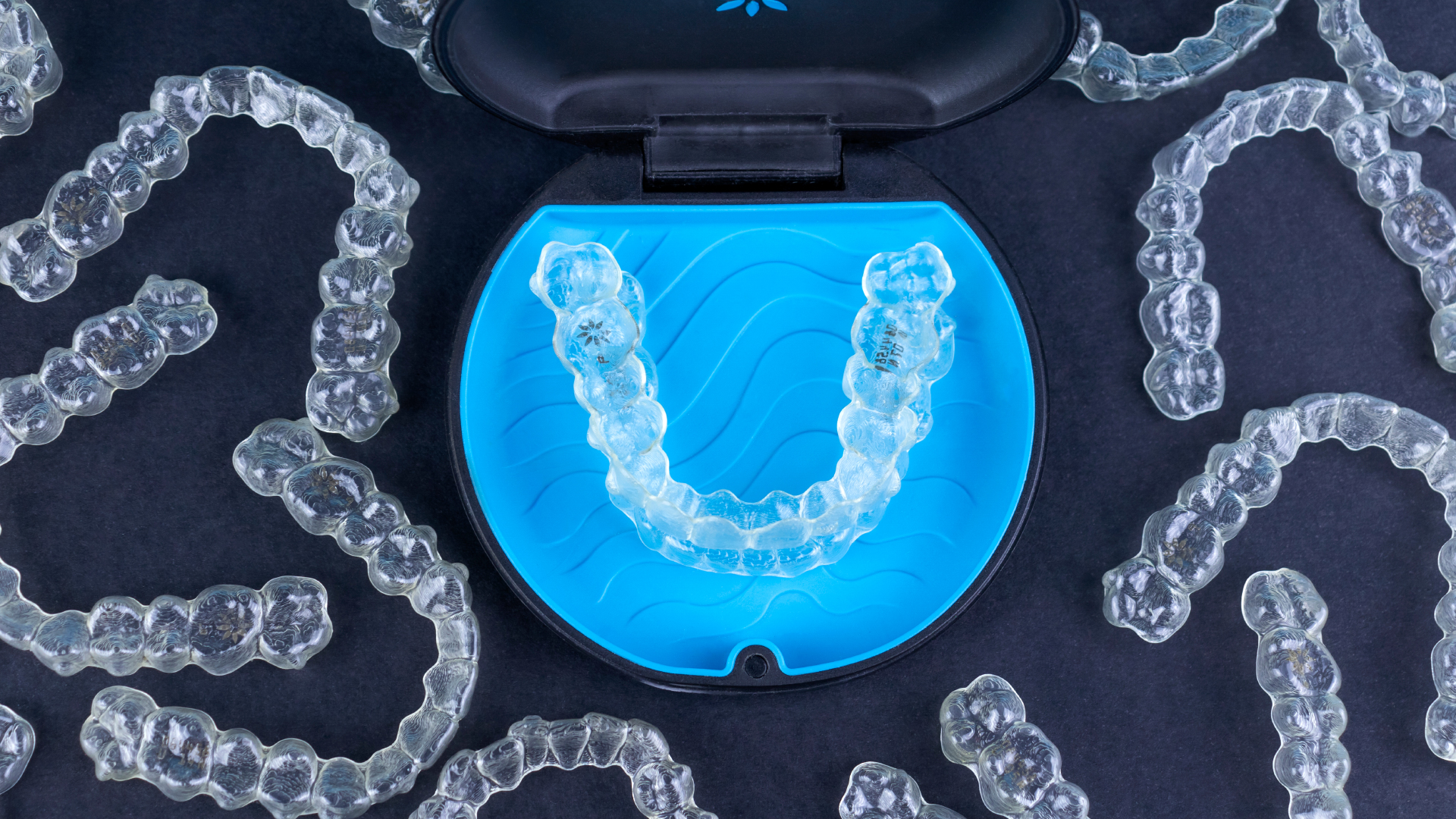 Is Invisalign compatible with other treatments?
Invisalign is compatible with other treatments. However, all the good dentists will advise to finish any treatment of dental restoration before beginning a treatment Invisalign®. Indeed, the dental implants, like the crowns or the bridges, are directly fixed to the jaw. They are therefore resistant to dental movements. In case of bone decay, it is imperative to perform deep treatments before any alignment work. However, if a bridge or veneers can wait, starting an Invisalign alignment treatment will produce the desired effect on the alignment, before placing prostheses. Because each treatment is custom-made and based on the patient's age and dental condition, each situation is unique, and patients should discuss all options and possible consequences with an experienced professional before starting any orthodontic treatment.
Invisalign and dental implants
Many patients wonder if wearing an implant will allow them to begin Invisalign treatment to align their teeth. Since natural teeth can move and adjust, and implants attach crowns or bridges in the natural position, Invisalign can align with both crowns and natural teeth, especially if the implant is positioned in the back of the mouth.
Invisalign and dental veneers
Dental veneers provide an effective aesthetic change that is essential for many patients to regain their smile by masking gaps, bites or crooked teeth. However, in some cases, people already wearing veneers may need orthodontic treatment. This may be because of a displaced tooth or because they have not observed strict enough dental hygiene. In this case, since metal brackets adhere less well to the porcelain of the veneers than to the natural enamel of the teeth, dentists can either anchor the brackets on the teeth that do not have veneers, or propose an Invisalign treatment: since it does not require a fixative, it is more compatible with dental veneers.
6302 vues
0 commentaires
0